SOA School: Table of contents
Get the class syllabus here. Learn more about your professor and see which lessons are coming up.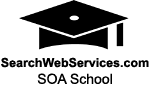 ---
Service-oriented architecture (SOA) is one of the hottest buzzwords in IT right now. Want to learn more about this IT manager's holy grail, in which software components can be exposed as services on the network and so can be re-used time and time again for different applications and purposes? If so, then SOA School is for you.
Continue Reading This Article
Enjoy this article as well as all of our content, including E-Guides, news, tips and more.
By submitting your personal information, you agree to receive emails regarding relevant products and special offers from TechTarget and its partners. You also agree that your personal information may be transferred and processed in the United States, and that you have read and agree to the Terms of Use and the Privacy Policy.

Eric Marks, President and CEO of AgilePath and the author of the Executive's Guide to Web Services, is your SOA School professor. In each of these 15-minute lessons he'll walk you through SOA strategy, implementation and management. SOA School is in session -- enjoy!
---
SOA School
Lesson 1: The business of SOA -- Business-oriented architecture
This session puts the concept of service-oriented architecture into a strategic and business context to explain why an organization should consider SOA and what business and strategic benefits can be achieved through SOA and Web services. Topics to be covered include: business drivers of SOA; strategic imperatives that triggered SOA migration and business elements that will benefit from SOA.
Listen to
Lesson one
right now.
Sponsored by:
Sonic Software
Lesson 2: SOA strategy -- Operationalizing corporate agility and flexible IT architectures
This session takes a look at how business agility is realized through the adoption of SOA and Web services. Following from the previous session, this session seeks to operationalize the idea of business agility in SOA terms, from both an IT architecture perspective as well as a business process perspective.
Listen to Lesson two right now.
Sponsored by: Sonic Software

Lesson 3: Implementing a SOA with Web services
Web services are picking up steam, especially when placed into the context of service-oriented architecture. This session will provide a simple framework for achieving SOA through focused implementation of Web services initiatives applied to common business challenges. Listen to Lesson three right now.
Sponsored by: E.Piphany

Lesson 4: Building blocks of SOA
This session provides a closer examination of the stepping stones to a service-oriented architecture, from asset re-use and Web services, to business process management and utility computing models. Along this path organizations can realize ROI opportunities now while leading their organizations to strategic and competitive advantage.
Listen to Lesson 4 right now.
Sponsored by: E.Piphany

Lesson 5: SOA management -- Policy & governance, operations and visibility
This session provides a SOA model for active management of SOA and Web services initiatives within an organization. Passive SOA/Web services management will lead to an SOA model that is vendor-driven instead of a SOA that meets strategic and tactical business needs.
Listen to Lesson 5 right now.
Sponsored by: Networking Decisions

Lesson 6: SOA roadmap -- The multiple pathways to SOA
This session will provide a simple roadmap for an organization to achieve service-oriented architecture (SOA) from multiple entry points. The most important concept from this session is the explicit linkage of the business to the SOA. Listen to Lesson 6 right now.
Sponsored by: Networking Decisions


---
EXTRA CREDIT
---
SOA/SOI Learning Guide
Dig Deeper on Service-oriented architecture (SOA) Design