arachniography definition
An arachniography (pronounced uh-RAK-nee-AH-gruf-ee) is a bibliography of Web pages. The term was coined by Andrew J. Butrica of NASA who first considered "webography" but didn't like the mixing of word origins. He asked his brother, James, who teaches Classics at Memorial University, for a classical language equivalent of "web." In Greek, arachne means both the spider and its web. So, for his history of NASA's X-33 project, Andrew called his annotated list of Web pages an annotated arachniography. Since the Web is not a "biblio," this particular neologism would seem to be useful.
How to Architect a Modern Distributed SOA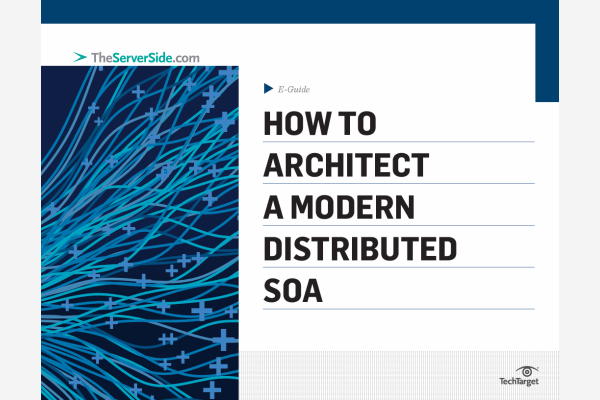 SOA based principles shouldn't be thought of as being mysterious, hard to learn, or magical. Gain expert advice on how to effectively build a distributed enterprise architecture from requirements to resources.
By submitting your email address, you agree to receive emails regarding relevant topic offers from TechTarget and its partners. You can withdraw your consent at any time. Contact TechTarget at 275 Grove Street, Newton, MA.
You also agree that your personal information may be transferred and processed in the United States, and that you have read and agree to the Terms of Use and the Privacy Policy.

The term has not yet been widely used, but it's still early in the history of the Web. Meanwhile, if you are including Web sites in a bibliography for an academic or other formal paper or printed work, the Style Guide of the Modern Language Association (MLA) tells how to write a citation. The MLA guideline includes a number of examples of citations for use as models. For a Web site that is a scholarly project, they offer this model:

 Victorian Women Writers Project. Ed. Perry Willett. Apr. 1997. Indiana U. 26 Apr. 1997 <http://www.indiana.edu/~letrs/vwwp/>.

A drawback in the MLA's Web citation style is that, if the Uniform Resource Locator and its angular brackets are transferred to a Web page, the URL will no longer be visible when viewed on a browser. This is because Web browsers view the information within a matched pair of angular brackets as an HTML tag and therefore not to be displayed. When creating the URL part of a citation, we recommend enclosing it within parentheses instead of angular brackets.
Continue Reading About arachniography
PRO+
Content
Find more PRO+ content and other member only offers, here.