BEST (Business / Enterprise State Transfer)
BEST (Business / Enterprise State Transfer) is an architectural approach for exchanging content with a Web site or Web services and is similar to REST or SOAP.
Looking for something else?
TECHNOLOGIES
BEST (Business/Enterprise State Transfer) is an approach for exchanging content with a Web site by re-using traditional HTTP forms and protocols.
Download Our Guide: How to Architect a Modern Distributed SOA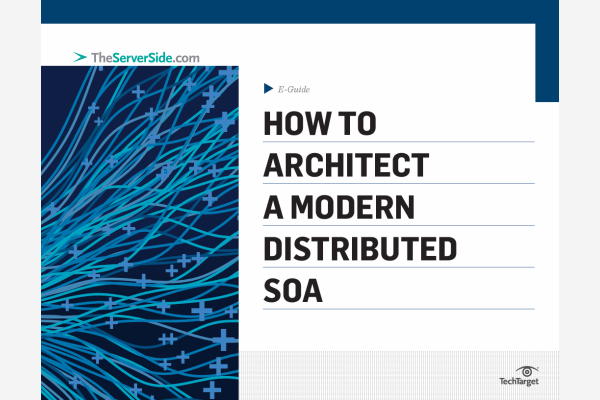 SOA based principles shouldn't be thought of as being mysterious, hard to learn, or magical. Gain expert advice on how to effectively build a distributed enterprise architecture from requirements to resources.
By submitting your personal information, you agree to receive emails regarding relevant products and special offers from TechTarget and its partners. You also agree that your personal information may be transferred and processed in the United States, and that you have read and agree to the Terms of Use and the Privacy Policy.

By leveraging HTTP GET and POST, people as well as computer programs can use the same fill-out HTML forms for managing client/server create, read, update and delete (CRUD) operations. A single BEST form could be used by a web browser and by a programming API. Subscribers and software developers alike would need only to know the URL for the page where the HTML form is located to either manually or automatically send and receive data through any HTTP Server.
BEST is an architectural approach that embraces and extends existing technologies and Web protocols without the need for HTTP Server update or technology re-deployment. When using a BEST approach, for example, a service that wanted to encode Enterprise Service Bus (ESB) transactions would not have to map REST CRUD operations to the ESB and/or application states, or modify the HTTP protocol. By migrating CRUD and other application operations to the top of the classical OSI Reference Model, BEST avoids opportunities for protocol/application request and state collisions.
Continue Reading About BEST (Business / Enterprise State Transfer)
Dig Deeper on Service-oriented architecture (SOA) implementations
PRO+
Content
Find more PRO+ content and other member only offers, here.